From container to urban uses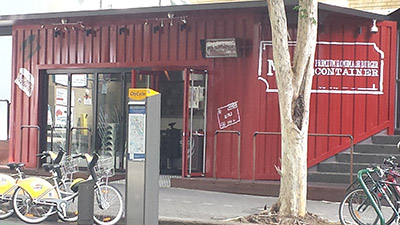 From truck to farm
Green Tech Argo's innovative Growtainers are specially equipped, insulated shipping containers that have been modified to include fittings that enable plants to grow.
Fitted with special LED lighting, water conserving hydroponic or drip-irrigation systems, adjustable shelving and a state-of-the-art HVAC system, Growtainers are ideal for small yards or communal gardens.
Another example of how shipping containers are transforming urban gardens are PodPoinics. According to the PodPonics website, these clever pods made from old shipping containers use less water, pesticides and fertiliser than traditional farms, while producing nutrient rich produce regardless of the season.
Hot stuff
And it's not just plants enjoying shipping containers' temperate environments…Canadian architect/designers Castor Canadensis created The Sauna Box. Using a shipping container, Castor Canadensis have created a water tight, functional sauna fitted with a wood fired stove and powered by solar panels – now that's clever thinking.
Creative uses
These crafty inventions are not only an environmentally friendly option for used containers, they offer the convenience of portability, require little site preparation and can simply be rolled up into their own convenient modular package and transported anywhere with you.
If you'd like your very own container farm house or sauna, speak to a friendly Coastal Containers Rep today regarding a new or used shipping container and modifications – call us on 1300 881 676.
Related Topics