Customised Containers Big On Pop-up Scene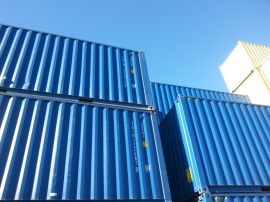 Shipping containers provide flexible, convenient storage and transport solutions. Shipping containers are commonly seen stacked several containers high at shipping yards and on the back of large trucks, but the humble container is now becoming a familiar site, popping up in unexpected places creating vibrant and interesting that hubs – here one day, simply gone the next.
To the market
In November last year, Brisbane welcomed its own shipping container-based market, Eat Street Markets at Northshore Hamilton. The website states that 60 shipping containers were specially configured to create an exciting and vibrant South-East Asian night market experience. Modified shipping containers have been turned into colourful, flexible and functional spaces with stall holders using them as mini-restaurants, bars, galleries and produce stores.
Almost built in a day
Pop up stalls have been highly successful overseas too with the UrbanSpace Management project in Brooklyn, Dekalb Market. Using salvaged shipping containers, the project aimed to create a vibrant meeting place for residents and tourists, while stimulating economic growth.
The UrbanSpace website states: Rather than overwhelm the neighbourhoods in which they reside, UrbanSpace markets are imaginatively adapted to fit the unique characteristics of each site. The goal is to foster creatively rich environments, where local artisans, makers and chefs mingle, exchange ideas and, of course, showcase their wares.
Cost effective alternative
Offering an environmentally friendly, customised and cost effective solution, new or used shipping containers are proving to be an excellent alternative to the more traditional developments and building materials. Yet they're still able to create vibrant and innovative landscapes that people flock to for enjoyment. And once people have been and gone, the container hubs are packed down and transported away – resulting in a smaller carbon footprint and infrastructure costs.
Coastal Containers has an extensive range or new and used containers available for hire or purchase. Contact one of our friendly Coastal Containers Reps for more information or for an obligation free quote today.
Related Topics