Shipping Container Grades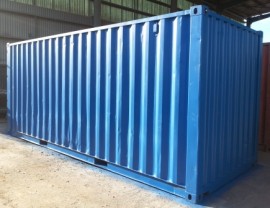 It is important to understand the container grading system and which one is the most suitable for your individual storage needs. Coastal Containers have put together this quick guide to help you decide which container option is best for you.
A Grade Containers:
usually 8-12 years old
in good condition
surface rust has been buffed & primed
door seals are intact
container is vermin proof, wind tight & watertight.
These are ideal for storage of goods that are of value such as furniture, documents etc. Very popular for worksites, home restorations and long term storage while travelling or relocating.
B Grade Containers:
usually 10-14 years of age
an average quality
minor surface rust
door seals are intact
wind & watertight.
These are ideal for general storage that is required to be secure and dry, not necessarily as clean and tidy as with A Grade containers.
Cargo Worthy Containers:
usually over 14 years old
considered "budget" containers
will have a few dents
some surface rust
seals might not be wind and watertight.
Best used for general storage where you need security, but keeping the elements out isn't absolutely essential, this is a container that is fit for international shipping.
Important Tip: Always get a refurbished container checked over by someone who knows what they are looking at.
Container Use Considerations
Shipping containers generally have quite a hard life, travelling the world at sea, standing up the the harsh ocean elements, as well as poor treatment by crane and fork hoist drivers. When choosing the best container for your budget, there are 3 quick questions to take into consideration:
What are you intending to store?
How much storage space do you require? (Check out our container sizes chart for more assistance.)
How much are you willing to spend?
Other Shipping Container Grade Options
Food Grade: Have a high standard of internal cleanliness.
Furniture Quality: These containers are very clean inside and do not have any mess that will mark the goods stored or transported internally. Similar to A Grade.
General Quality: You might see a few scuff marks and rust on these, but they are generally in reasonable condition. Similar to B Grade.
Industrial Quality: These have a fair bit of rust, dents and markings. These are suitable for industrial storage where cleanliness isn't important. Close to Cargo Worthy Grade.
Another common term is "one trip" containers which are usually manufactured in Asia and are used for one shipment before being sold on the second hand market. These can be almost brand new and great value for money.
If you would like to speak to a Coastal Containers representative to help select the best container for you, you can either contact us online or call 1300 881 676.
Related Topics