Containers a favourite with architects & green builds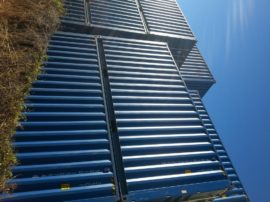 With a solid floor, four very strong walls and a frame that's as sturdy as they come, shipping containers are increasingly being used by architects and 'green' designers. Shipping containers are robust and can be cheaper than many traditional building materials, and with a little imagination, they can be modified to suit a magnitude of specifications.
Space saver
Easily stacked or placed adjacent, and into the tightest of spaces, shipping containers can be transformed from a humble storage shed into functional bathrooms, offices, rest areas and even entire homes!
Considering they're also resistant to termites, mold and can be insulated, it's no wonder many architects are integrating shipping containers into their designs.
Not your standard home
The Shipping Container Homes Australia website says recycled shipping containers are not only affordable, they're environmentally friendly and are ideal for small urban lots. A great example of this is Bark Design Collective's All Terrain Cabin. The all-inclusive cabin style home is easily transported as it folds up to reappear as a standard 20ft shipping container that is simply transported via rail, truck, ship or even plane.
Not boxed in
It's not just homes that shipping containers lend themselves to, Phooey architects created the Children's Activity Centre in Melbourne. The playground features four containers placed at various angles and with one stacked on top to create an exciting and visually appealing affect. Comfort has been considered with the interiors being carpeted and include desks, beanbags, a quiet room and computers. Each of the containers' pieces were used with the end doors being turned into structural blinkers for balcony ends and the side walling reused as balustrades and awnings – so no piece going to waste.
Shipping containers with their steel exterior automatically create a look that's edgy, earthy and of course industrial. Coastal Containers' shipping containers are easily transported throughout Queensland and northern New South Wales and with new or used options available, a shipping container modification may be just what you're after for your build project.
Related Topics